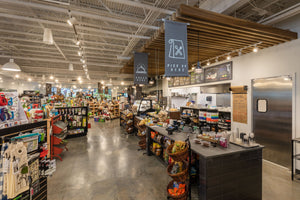 Culinary-products, gourmet kitchen gadgets & appliances, plus cooking classes.
Food for thought
The Cook's Station is a destination for anyone who has a passion for food. Whether you are a talented home cook desiring to try the latest and greatest new gadgets and cookware, to one that loves sharing a nice meal with family and friends. The Cook's Station offers all the gadgets, gifts, spices, wine, drinkware, and appliances that one could want.
In addition, we offer cooking classes, private event space for rent, a gift registry, personal gift baskets, and much more. We invite you to enjoy a fresh and delicious bite to eat on our outdoor patio, or take one of our homemade prepared food options to go to share with loved ones! Our goal as a small, family-owned business is to make our customers feel like family, take care of our employees, and give back to our community. We look forward to serving you and offering an experience that is truly one of a kind.
At The Cook's Station, we believe that cooking is a creative expression and a way to bring people together. That's why we also host a variety of cooking classes to inspire and educate our community. Join us for hands-on workshops led by our chefs, or sit back and let us handle the cooking in one of our delicious dinner series. Enjoy an educational dinner where you can pick up on new techniques, dive into different cuisines, and connect with fellow foodies in the community!
Whether you're seeking quality kitchenware, a memorable dining experience, or a chance to develop your culinary knowledge, The Cook's Station is your go-to destination. Join us on this culinary journey and discover the joy of cooking, one plate at a time.
515 Buncombe St. Greenville, SC 29601 | 864-250-0091